News
Launch of Sensory Dimensions Ltd Nottingham branch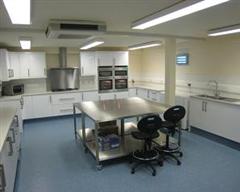 October 2008 saw the launch of our new facility in Nottingham. Over 30 clients took the opportunity to attend and, with Tracey Hollowood, the Nottingham branch Director, take a guided tour of the new premises, and see a photo presentation on the transformation of the building from the original shell to the present state-of-the-art sensory and consumer testing facility. Tracey also gave a short presentation on Sensory Dimensions' research specialities and our new self-funded programme, investigating and validating new methodologies. The evening concluded with a celebration drink and a home-cooked hot buffet.
If you missed the October launch event, you are warmly invited to view the new facility – just let Tracey know when you'd like to visit.
Eurosense 2008
Earlier this year, at the conference 'A Sense of Innovation' in Hamburg, Dr Tracey Hollowood presented results from a recent Sensory Dimensions-funded study involving the novel application of the 'Repertory Grid' technique to investigate consumers' emotional response to twelve commercially available toothpastes.
From thirty in-depth interviews, we discovered what emotions might be involved and identified the toothpaste packaging characteristics that cued these responses. The intensity of the responses was rated, with multivariate analysis of this data revealing that the combination of a well known brand, an interesting and informative pack and whitening claims evoked feelings of trust, confidence, excitement and approval. Interestingly, these attributes were not sufficient in isolation to generate the same combination of emotions, nor was any one pack style linked to a more positive response.
In a subsequent session, respondents rated their expectation of key sensory characteristics. Products synonymous with the emotions listed above were expected to be effective, high quality toothpastes, with good breath freshening, whitening and tingling properties. Not surprisingly, these emotions and product attributes were consistent with respondents' likely purchasing decisions.
The final stage of the study involved a Home Use Test (HUT), during which respondents made a 'blind' assessment of each product. Comparison of these data indicated that some products scored more highly for sensory and performance attributes than expected. Conversely, other well known brands performed badly compared to expectation. The impact of a poor performance on the initial emotional response was discussed and it was clear that interpretation of any typical product assessment would benefit from the introduction of emotional data; and reinforce its value to product developers in understanding the 'emotional' impact AND sensory expectation derived from their packaging designs.
The presentation was well received by the audience. It has resulted not only in several enquiries about the use of Repertory Grid in this context, but also in several invitations for Tracey to speak at events in 2009.
The research demonstrates Sensory Dimensions' commitment to enhancing the quality and variety of services available to our clients, and is just one example of our ongoing programme of self-funded research projects, investigating and validating new methodologies or novel applications of old favourites.
If you would like a pdf copy of Tracey's presentation in Hamburg, or are interested in finding out more about the Repertory Grid method, please get in touch.
Christmas Office Hours
Finally, we'll be taking a well-earned rest over the Christmas period, and closing both our offices from 24th December until 5th January.