Be Eye Catching With I-Catcher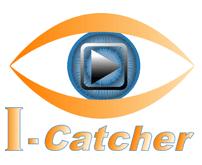 With only an hour of your time, you could have a stunning one-minute I-Catcher video portrait that will showcase you or another key person in your company. Why only a minute? In our soundbite world, people are rarely prepared to take in more than a minute, so we say engage them, don't bore them.
Anyone can make an I-Catcher – it's fast, it's easy and it's very effective.
You'll spend the first 30 minutes with our voice and performance coach, who'll put you at ease, and train you to perform in front of the camera. The second 30 minutes will be spent recording your I-Catcher. And that's it! We edit your video and present you with a one-minute clip which is yours to use as you wish.
We don't use scripts and we don't use professional presenters. We use YOU. Your passion and enthusiasm are what sells your business to your customers. They'll say 'now there's someone I can work with; s/he's so passionate about their work'. We'll make sure you look and sound your best, by using flattering daylight balance lighting and superb sound. And we can also advise on clothes, hair and makeup to really give you the edge.
For £400, you'll get your I-Catcher on disk in three file formats so you can use it on your website, on a mobile device and even on a DVD player. The choice is yours – and so is the copyright.