REALLY DIFFERENT TRACKS
click here for more information
An amazingly interesting tour combining the best of Kenya's wildlife, culture and lodges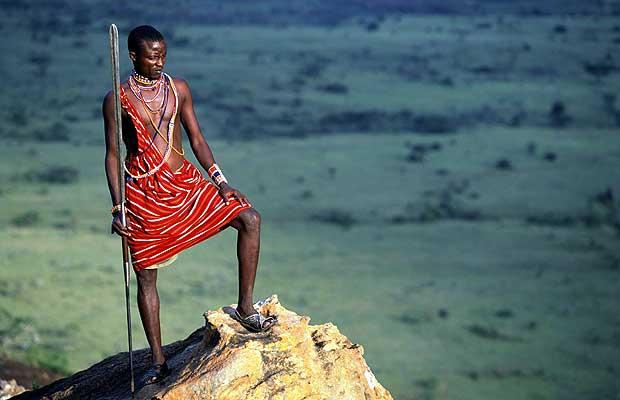 Day 1 Nairobi,
Giraffe Manor >>>>>>>>
The Giraffe Manor is an elegant, personally hosted, small and exclusive hotel, famous for its resident herd of giraffe. The Giraffe Manor offers a rich blend of welcoming accommodation, highly trained and friendly staff, as well as one of Nairobi's finest kitchens.
The Giraffe Manor is surrounded by 140 acres of indigenous forest just outside Kenya's capital, Nairobi. As well as the giraffe, the property is also home to many species of birds, large families of warthogs and the elusive Bush Buck.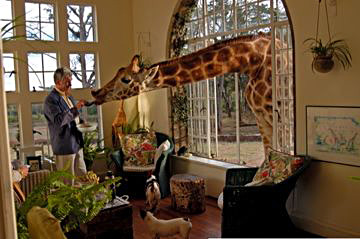 Day 2-6 Chyulu Hills, Ol Donyo Waus >>>>>>>>
For over 20 years Ol Donyo Wuas Lodge was the Africa cognoscenti's dream destination. Tucked away in the spectacular Chyulu Hills, above the heat and malaria, and far away from the tourist circuit, Ol Donyo Wuas was a model for many of the 'bush lodges' that were to follow.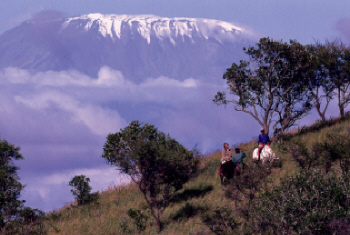 Day 7-9 Laikipia, Lemartis >>>>>>>>
Lemarti's Camp is an unforgettable safari hideaway in Kenya's breathtaking northern Laikipia Plateau, one of the last frontiers of virgin wilderness and home to the majestic Samburu people. The twist here is that while the local Samburu community owns the land, the camp itself was built and run by a local Samburu guide - Loyapan Lemarti - and his Kenyan-based fashion designer wife, Anna Trzebinski. This unlikely duo met on safari - he was her guide - and were later married. Their dream camp emerged, nestled in an oasis in a spectacular setting beneath a grove of palms and centenary fig trees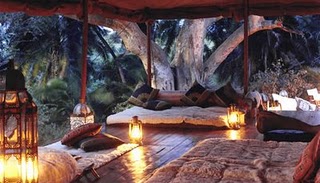 Day 10-14 Mara, Naibor Camp
Naibor Camp, originally designed by Anthony Russel, is a luxury tented camp, a striking combination of contemporary style and comfort, in the heart of Kenya's world famous Masai Mara Game Reserve. The camp is hidden in a grove of riverine woodland on the banks of the Talek River and consists of sweeping pale canvas tents, king sized beds made from local fig-wood, wide sofas furnished with bolster cushions, and wool rugs - a luxurious base from which to explore the Mara.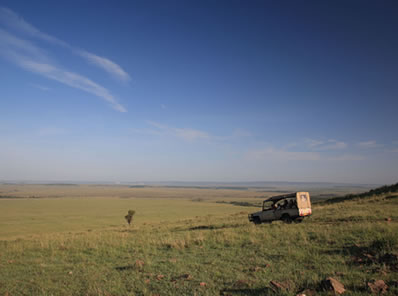 Day 15-19 Zanzibar, Kilindi
Kilindi is a 15 unit piece of functional art scattered along a picturesque-perfect stretch of Northern Zanzibar. Designed by Neil Rocher in conjunction with some long-serving Tanzanian specialists, Kilindi brings a welcome dash of pizazz to the island. Standing watch over the time-honoured Dhow Routes, along a crescent of coral-bright sand, each of the fifteen pavilions embrace cascading rain-water pools, lush tropical gardens and domed private spaces of rest, indulgence and well-being.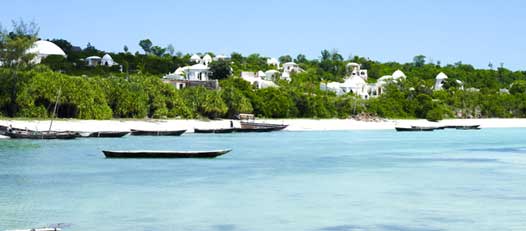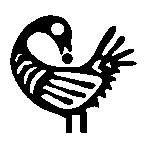 ZAMBIA and LAKE MALAWI
14 nights safari combining the excitement of the Victoria Falls with Zambia's best game-viewing destinations plus the tranquility and beauty of Lake Malawi – this great lake's tropical waters are the habitat of more species of fish than any other lake on the Earth!
This exceptional 14 night safari taking in the most exclusive owner operated camps in Zambia and Lake Malawi.
1 night - Tongabezi Lodge >>>>>>>>
Built over 20 years ago Tongabezi was one of the true pioneers in African safari lodge design and was one of the first to entertain guests in open fronted rooms. Tongabezi Lodge is a romantic hideaway on the banks of the Zambezi River just upstream of Victoria Falls.

2 nights - Exclusive Sindabezi Island in the Zambezi River
Sindabezi Island Camp is a small, shady, private island paradise surrounded by the waters of the Zambezi, upstream of the Victoria Falls. Sindabezi Island is unique as the only island lodge on the Upper Zambezi River in the Victoria Falls area and offers magnificent views overlooking other islands and a nearby floodplain of the Victoria Falls National Park. >>>>>>>>
3 nights - Sausage Tree Camp in the Lower Zambezi
Sausage Tree camp is located on the banks of the Zambezi River at the heart of the Lower Zambezi National Park, Zambia. This exclusive safari camp specializes in the very best game viewing with the highest international standards in luxury and service. Accommodation at Sausage Tree is in six luxurious, white Bedouin-style tents, dotted discreetly along the river bank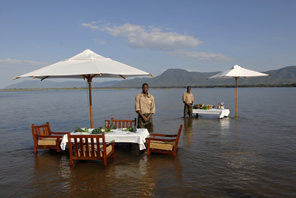 5 nights - Norman Carr Safaris camps in South Luangwa
The Luangwa Valley has long been regarded as one of Africa's finest wildlife destinations. Its unspoilt natural beauty and abundant game make it an ideal destination for an African safari holiday. The late Norman Carr started the first safari company in 1950 and 60years on they are still leading the way in Zambian wildlife safaris. Norman Carr Safaris offers Kapani Lodge and a selection of the best Zambian bushcamps. Guests enjoy a definite sense of adventure combined with a little luxury in the heart of the wilderness.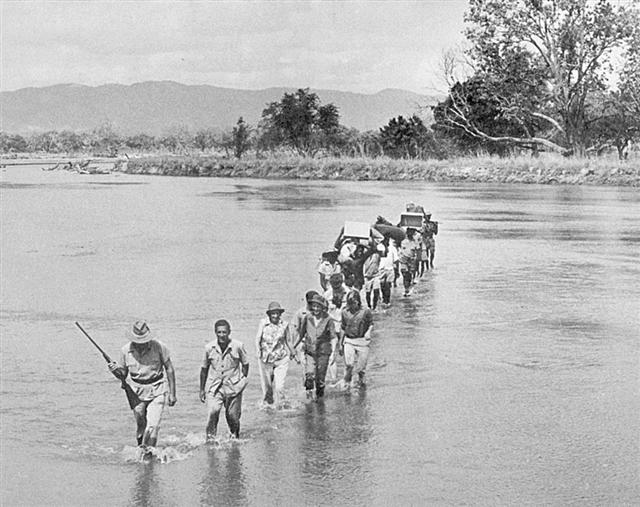 3 nights - Kaya Mawa on Likoma Island in Lake Malawi
Rated by Condé Nast Magazine as one of the planet's ten most romantic destinations, Kaya Mawa is located on the south-western tip of Likoma Island in the far north-east of Lake Malawi, close to Mozambique. The island is covered with mango trees and ancient baobabs and encircled by glorious sandy beaches and rocky coves. Likoma Island is the larger of two small islands situated in the far north of Lake Malawi, on the east of the Lake and very close to the Mozambique coastline.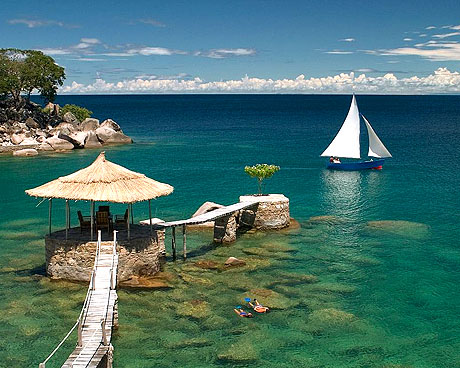 Tour available from May 20th to November 5th 2010
AND... SPECIAL OFFERS
starting at just £5399 pp (excludes International Flights)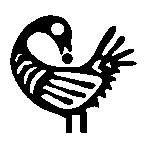 SOUTH AFRICA'S GREAT KAROO
Samara Private Game Reserve has once again been featured in the exclusive Conde Nast Traveller magazine
"Leaving behind the coast of South Africa's Eastern Cape, Peter Browne explores the quiet towns and wide open spaces of the Great Karoo.
……….. choosing to leave with one abiding memory: Sibella the cheetah lying free and proud atop Kondoa Mountain, with all Camdeboo before her"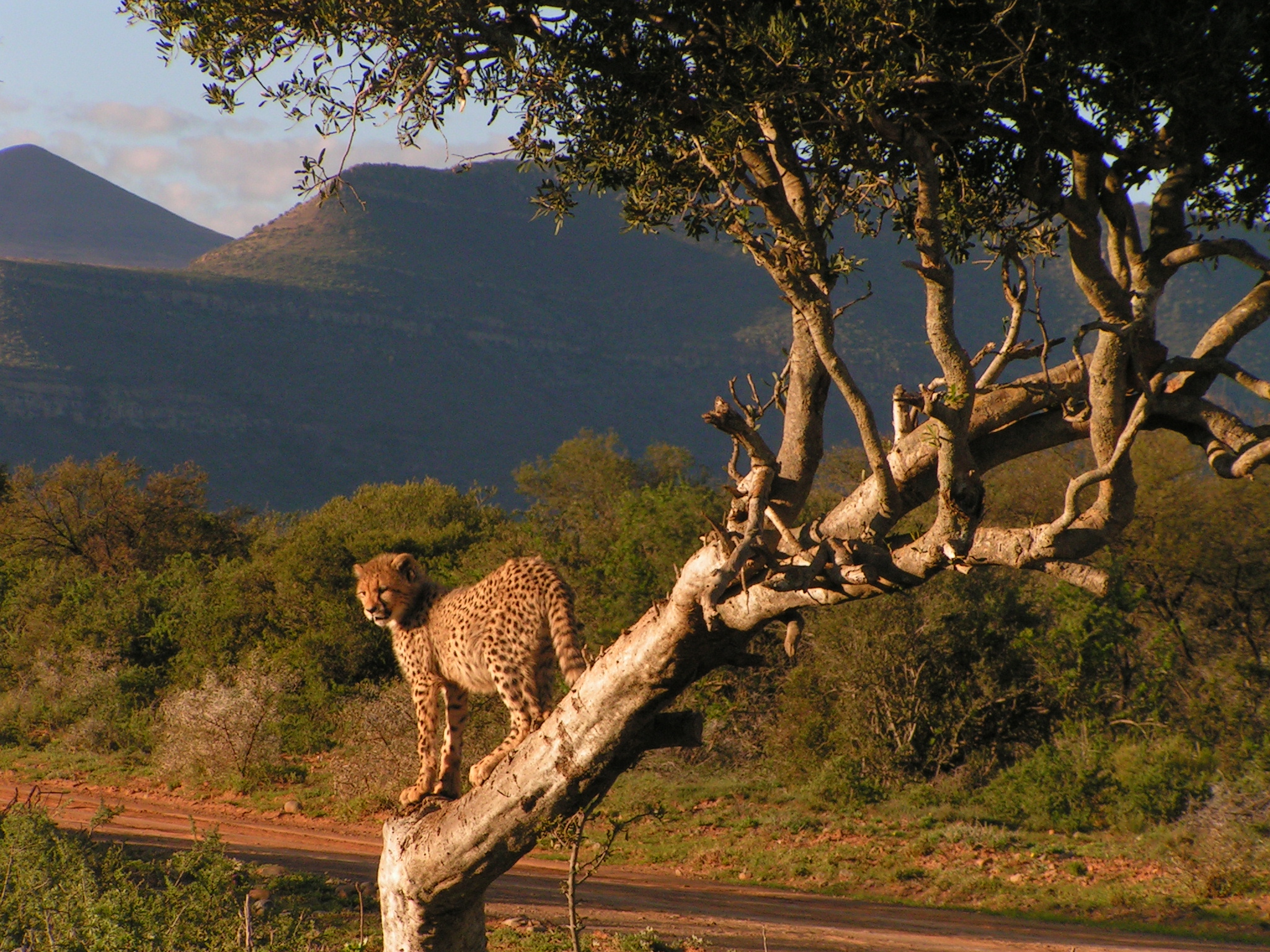 Peter Browne in his own words ' turned his back on the Indian Ocean and headed inland...to The Great Karoo, an indelible place in the hearts of South Africans.'
'Before the settlers arrived, these open plains and fertile valleys were rich in wildlife. There are tales of springbok migrations in the 19th century involving thousands of antelope; of herds of elephant and Cape Mountain zebra, of plentiful kudu, black wildebeest and eland. Outside the national parks, they are all long gone,...recently a number of game farms have opened....genuine outfits with sound ecological credentials such as Samara Private Game Reserve.' READ MORE>>>>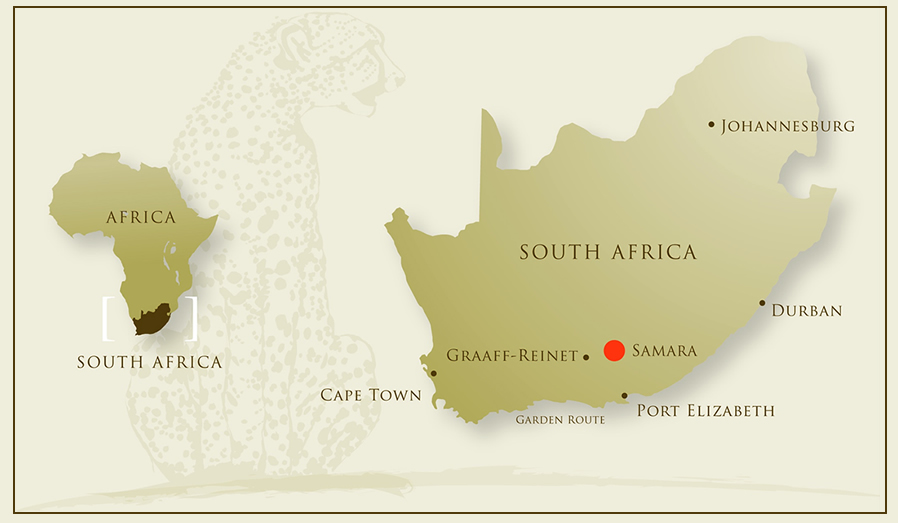 Mark and Sarah Tompkins had a dream of turning old farming ranches in the Karoo back to their natural condition. Down came the fences, and the Samara private game reserve began. Samara, land of serenity, has had as its aim, the realization of the land's potential, not only as an area of outstanding natural diviersity, but also as home to an ambitious programme of game reintroduction. Herds of springbok, black wildebeest, zebra, oryx, eland and blesbok amongst others "pronk" and run again on the Plains of Camdeboo. Rhino and giraffe now meander across the veld. Nearly 125 years after it was last seen, the cheetah reigns again. It is now one of the largest private gaming reserves in South Africa.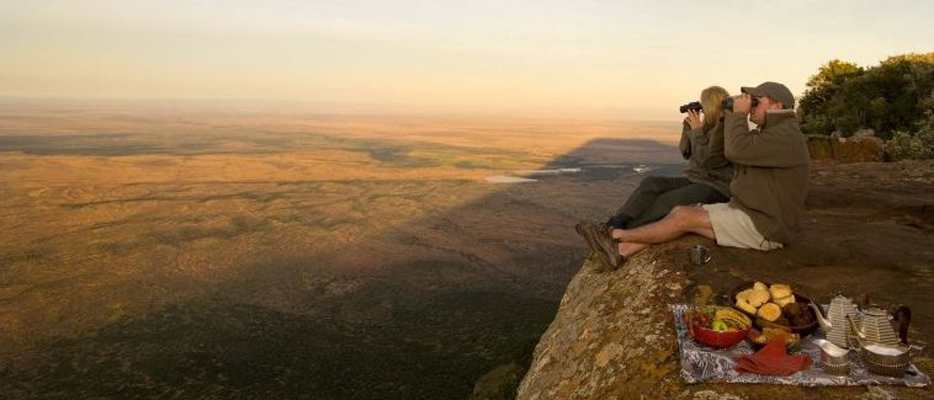 Voted Conde Nast Traveller Hot Spots List 2009
Voted Conde Nast Traveller Hot Spots List 2008
Voted Harpers Bazaar The 15 Greatest Safari experiences in Africa March 2008
Voted Tatler Top 101 Hotels in the World December 2007
Voted Conde Nast Travelers Hot Spots 60 New Hotels in the World May 2006
Voted Travel and Leisure Top 50 Romantic Destinations in the World February 2006
More about SAMARA